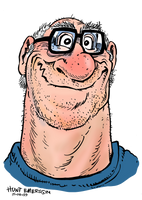 Hello!
I'm Hunt Emerson, I'm a comics artist and cartoonist. I've been writing and drawing comics since the early 1970s, and I'm still doing it!
My comics are published regularly in The Beano, Fiesta magazine, and Fortean Times, and sporadically in many other publications. I've published over 30 comic books, mostly with Knockabout Comics of London. My illustration work has included music CD design and marketing; magazine, book and publicity illustration; public art projects; and community art and involvement.
Largecow.com is my SHOP, where you can buy my books, and original artwork for comics pages and illustrations, along with some extras such as t-shirts.
If you want to read a longer biography and a bibliography…
Biography & bibliography