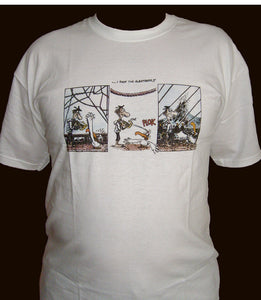 A T-shirt printed with frames from my Rime of the Ancient Mariner. The book is available in the Largecow Shop. Look cool, stylish, or just lumpy, as an albatross is shot on your chest.
The t-shirt is made by The Wordsworth Trust. Available in sizes S, L, & XL. When you order a shirt, please contact me and say what size you want. Thanks!
This item is mailed at Books Rate - see Delivery Information for details.